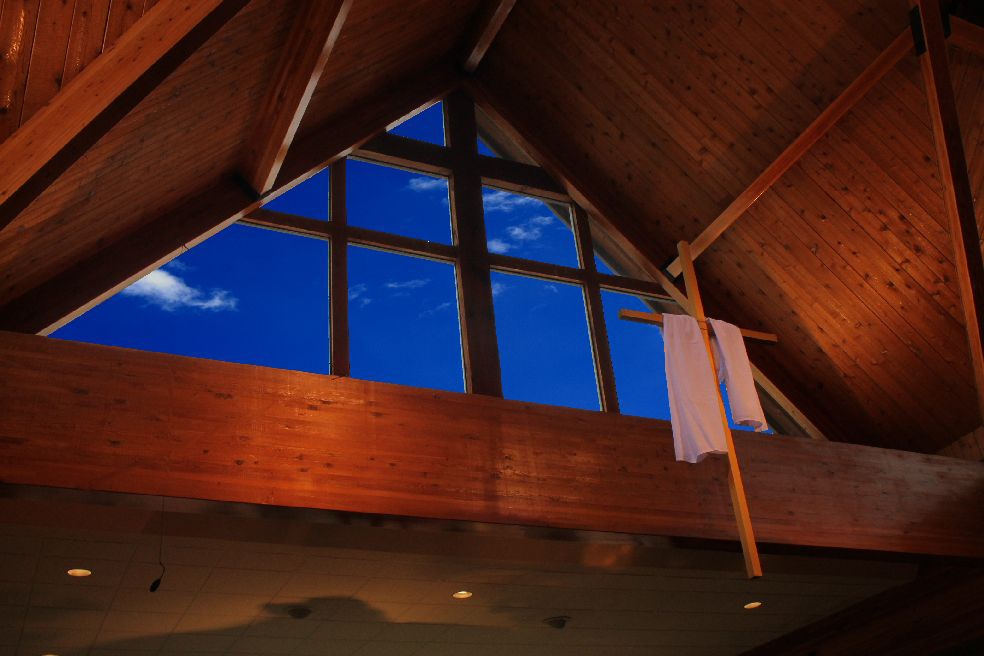 A timeline
1962 Oklahoma Christian Church Commission purchases three acres of land adjacent to Western Oaks Middle School
1964 Oklahoma Christian Church Commission purchases a house at 2600 N. Council Road and the first service is held on February 9, with 22 families as charter members and Rev. Clifford Farriester as the first called part-time minister
1967 Rev. Robert Porter becomes full-time minister and another building fund campaign nets 10,000 in pledges from 74 members. Christian Church United Capital Campaign grants $15,000 for a building, and ground breaking occurs
1968 First building (now the Community/Youth area) is dedicated March 1, 1968
1968 Rev. Jerry Johnson becomes Senior Minister
1971 Phase II (now Schwind Hall) building program fund raising begins andbuilding is dedicated
1972 Ground breaking occurs and second building is dedicated
1978 Phase III (now Choir Room, Classrooms, Fellowship areas, Restrooms, andKitchen) building program fund raising begins and building is dedicated
1982 Phase IV (now Minister's office, Restrooms, Narthex, and Sanctuary) building program fund-raising begins
1983 Phase IV building is dedicated May 1
1985 WOCC Land Run begins and a strip of land purchased to provide additional parking and an entrance from Council Road
1986 Jim Zug becomes Senior Minister

1990 Rev. Dr. Jim Gordon becomes Senior Minister
1995 Rev. Gene Aikman becomes Interim Minister
1997 Rev. Michael Omundson becomes Senior Minister
2002 Rev. Kyle Maxwell becomes Interim Minister
2003 Rev. Dr. John Regan becomes Senior Minister
2004 WOCC adopts "Loving God and Serving our Neighbors" as its motto
2005 Capital Campaign "Sharing the Light – Changing the World" begins with $370,000 pledged over three years
2007 Children's playground campaign begins, and the new Children's playground is dedicated
2007 Additional acre purchased along Council Road for $105,000
2008 Ground breaking and construction begins on driveway to Council Road
2008 WOCC sends its first minister on Sabbatical on June 1 and selects Rev. Kyle Maxwell as Interim Sabbatical minister; Congregational Sabbatical work begins
2013 Rev. Don Gibson becomes Transitional Senior Minister
2014 Rev. Daniel U'Ren becomes Senior Minister
Charter Members
Cy and Dorothy Barnes, Hugh and Frieda Bonham, Joe and Roberta Beisel, Louise Cassell, S. W. (Blackie) and Ruth Clutts, Barbara Collier, Johnny and Mildred Danniels, Ray and Ester Drechsler, Clifford and Irene Farriester, Pat and Mary Lou Gentis, Harold and Shirley Harweld, Hjalmar and Louise Hillman, Lucretia Hillman, Phil Irwin, Daryle (Tommy) and Mary Jo Johnson, Gladys Johnson, Leo and Anna Mae Kirk, Edgar and Elizabeth Lonas, Forrest and Hazelle Morris, Curtis and Evelyn Owen, Suzanne Parker, Earl and Jerry Pendley, Jack and Sue Penwrigh, Carl Perry, Jane Perry, Phil and Lois Rodgers, Leo and Benny Tate, Charles and Josephine Terry, Henry and Wanda Thiems, Charles and Anna May Watts, Howard Watts, Jess and Jane Webster, Mike and Patty Williams.
50 years of Memories
by Suzanne Watts Parker
Charter Member of Western Oaks Christian Church
In January of 1964, I read a small article in a Bethany newspaper about the Disciples of Christ starting a new church in Bethany, OK. It immediately caught my attention because of the location which was just north of 23rd street and Council. I made a couple of phone calls to inquire about when and exactly where. I had attended the First Christian Church in Yukon, OK, since I was a child, was married in that church and still attending it with my husband, and two young sons, Mark and Darren Watts. We talked about leaving my home church of so many years that was well established and leaving our friends in that church and starting out with a brand new small church and the challenges that would be ahead. Also, thought about the close distance that we would be from the new church opposed to the drive we made every Sunday to Yukon. We made the decision to change churches and started to attend Western Oaks Christian Church the very first Sunday. It is hard to believe that it will be 50 years on Feb. 9, 2014 since we became "charter members" and started on a wonderful and amazing journey. I want to share some things about our first "church" in the beginning.
There was a "Steering Committee" that had been selected to get this church started. I remember, Charlie and Jo Terry, Earl and Jerry Pendley, Blackie and Ruth Clutts, Jargo and Louise Hillman, Forrest and Hazel Morris, Charles and Anna Mae Watts, and Louise Cassel. Our first minister to come and preach on Sundays was Rev. Clifford Farrister; later, Rev. Don Heath.
Our first full-time minister was Rev. Robert Porter, followed by Rev. Archie Taylor, then Rev. Jerry Johnson who remained our faithful and beloved minister for 21 years. We worshiped in the "house" for about three or four years before our first church structure was built on the property that our church still stands on today.
Our first church was not what we call an official looking church. It was a house that had been converted into a "house of worship." The house still sits right behind Buy for Less grocery store at 23rd street and Council. We drove up a small hill to the house and the car parked in the back of the house in the beginning. As we acquired more members, you would see cars parked up and down the hill in the front of the house under the beautiful trees on Sunday mornings. Members did a lot of work inside. The garage was converted into our temporary sanctuary, the living room and three bedrooms were used for Sunday School classes for the children. We had an adult Sunday School class that met in the sanctuary before the church service. The small kitchen was used for serving food, some cooking, fixing communion, fellowship dinners, etc. Back then, we didn't have any hired employees, the church members took turns cleaning the church and having it ready for the Sunday morning services. We were also fortunate to have several men in the church who were very generous with their skills, their time, and some in a profession to build, repair, and acquire needed items to keep us going for a lot of years before we were able to have a large church budget. It is amazing to think back and remember that some Sundays in the beginning months we might have 11 to 20 people regularly attending. Some of us in thinking back still refer to our first church as "The little house on the Prairie that became a church."
And so we began, not to just meet and worship God in this new formed church, but we also began to cultivate friendships, became a loving and supportive congregation not only of this church but for each other. Many of those friendships are still shared in this church today. We began to grow and we brought many young families into the church with young children, and several of those children are still active members with children of their own that attend WOCC today. We were fortunate to have good leaders in the beginning. As our congregation grew, we acquired more and more wonderful members, devoted to this church and serving in so many capacities as they were asked. I have to mention some of the devoted first church members that joined and attended while we worshiped in this house and were active at WOCC for many years when we were a "young" church and think that we should pay tribute to and thank them for their loving support and dedication. All of the "Steering Committee" members: Tommy Johnson family, Pat Gentis family, Carl Perry family, Jim Burke family, Harvey Norris family, Pat Brady family, Henry Thiems family, Joe Bonham family, Leo Kirk family, Bill Halpain family, Bill Deason family, Mickey McGuire family, Joe Mercer family, Jim Egger family, Harold Pace family, Lloyd Pratt family, and Cy Barnes family. I know that I have missed a few and I apologize. It has been an incredible journey for me to attend this church for 50 years and see how much it has been a part of my life for me and my family, and has been there for me through the good times and the sad times. I am thankful for the best friends I have acquired in the very beginning and through the years; and watching this church grow into the wonderful well established church it is today, for all of the dedicated ministers, leaders and loving and supportive congregation that WOCC has always been and will continue to be in the future of this blessed church.